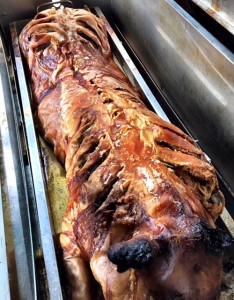 Hog Roast Dumfries has catered in all kinds of locations over many years now, from back gardens to parks, and conference suites to hotels, and recently we catered in a lovely hotel that is in the Royal Burgh of Sanquhar. Sanquhar is a charming town on the River Nith, which claims to have the oldest working post office in the world, as it was established in 1712. Nithsdale Hotel is a family-run establishment on the High Street of Sanquhar itself, with a large function room that is suitable for weddings, parties, and conferences and for an event that we were asked to cater recently, we would be cooking one of our centrepiece hog roasts for 200 guests.
Karen asked us to cook our Menu 1 hog roast, but without the bread rolls. We often provide rolls and wraps so that we can make our famous Hog Roast Dumfries pigs in buns for our customers and their guests, but as we are flexible, you can always adjust menus to suit you, by either mixing and matching items between menus or even creating your own if you prefer. In this instance, all that was needed to feed the guests was our gorgeous, fresh, local meat, produced by preparing it several hours before serving, then cooking it slowly at a low temperature for a long time, before letting it rest and then slicing off the crackling and carving away at the insides and serving both at the optimum temperature.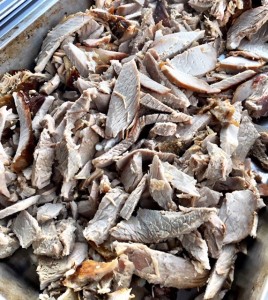 Our Hog Roast Dumfries team arrived bright and early and set up our equipment in the newly-refurbished beer garden. Once the gazebo was up, the serving tables were out and the hog roast machine was turned on, and the meat had been scored, covered in water and then smothered in salt, we could then watch over it as it sizzled away. Later on, before it was ready, we dished up the sauces, including our own apple sauce, and prepared our sage and onion stuffing to serve with the meat and crackling.
Around 6.15pm, it was time to serve the hungry guests, and our team got ready for the queues to begin.