The Lanarkshire Hog Roast Catering Company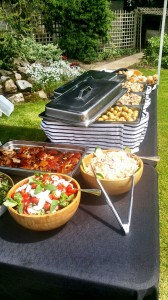 We're known throughout Lanarkshire, from East Kilbride to Galashiels, as first-class caterers for any kind of occasion. Whatever you have in mind, whether it's our famous pigs in buns to celebrate a birthday or welcome canapés and several courses for a corporate Burns Night event, let us take the weight off your shoulders so you can relax and enjoy the party. We've been established in Lanarkshire for many years now and we love to make our customers' special occasions the best they can possibly be.
I feel this is now a great time to introduce myself to you, I am John, the owner of Spitting Pig Lanarkshire. With over 22 years of experience in every aspect of catering from fine dining to corporate events, we are the perfect choice to ensure your guests enjoy an unforgettable dining experience.
Fresh, Quality Catering
Our customers and their guests often compliment us on the freshness and quality of our food, so it must show that we are passionate about both. We only use high-quality ingredients, including locally-sourced meat from our trusted suppliers, but we ensure that the quality we're after also extends to our other ingredients, from salad leaves to vegetables and condiments. We cook and serve food that we would want to eat ourselves and we go the extra mile to make sure our customers are satisfied. We're not happy unless you and your guests are well-fed and fulfilled with your overall experience.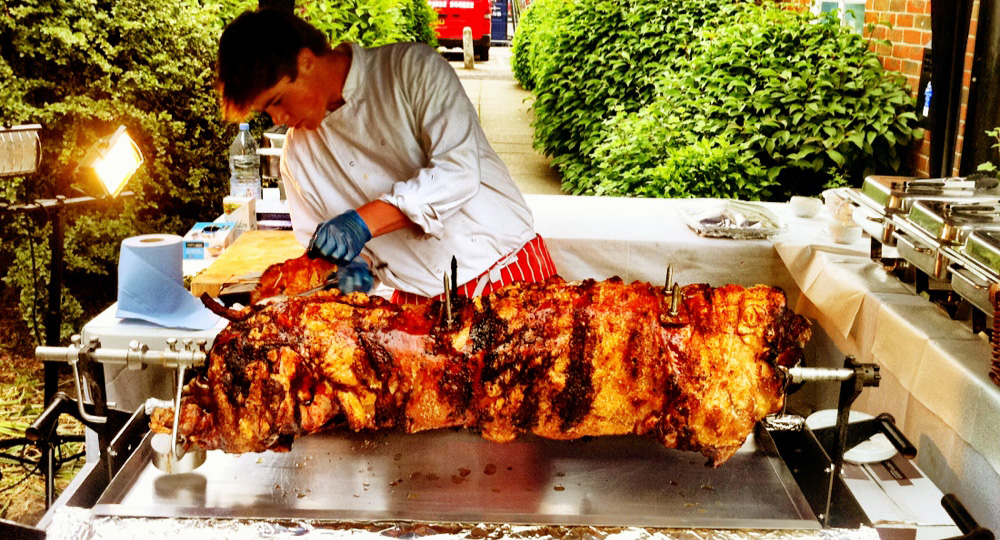 We know that a hog or spit roast can be an awe-inspiring encounter, especially if it's your first time. Many customers want to show off to their friends and family with the wondrous tastes and smells of meat that's been slowly roasted for several hours from scratch. Let us show off on behalf of you on your special occasion by providing some of the best catering around Lanarkshire and beyond, with the spectacle of a beast sizzling away in its own juices and the air filled with its delicious aromas. We've even known people in places such as Ayr to recognise us simply from the scrumptious smells wafting around the streets!
We're proud of our reputation here at The Spitting Pig Lanarkshire but then we have always strived for perfection and that includes perfecting our hog roast machines that we designed ourselves and we build ourselves; they are, of course, the ones we use when catering parties and events around the County of Lanark but we also rent them out so both professional and domestic customers can 'do it themselves'. Additionally, we sell our machines all over the world, even to domestic chefs when they discover how economical using our gas-powered equipment is to cook an entire meal in one go (plus we think it always tastes better too!) Talking of cooking a meal in one go, it's because our hog roast machines act like conventional ovens that we can do this, so while the meat roasts away at the top of the machine, the potatoes and veggies are cooking way inside.
My Catering History And Reputation Speaks Volumes
Speak to any successful chef and I am sure they will tell you the same as me, once you join the industry and develop the love for catering and hospitality events you never lose it! The full teams passion for catering is what makes us stand out and what makes us so successful. I have developed my skills over the years and it started a long time ago as an apprentice in the Glasgow Hilton for 4 years, this is where I developed the true passion and learnt lessons that would stand me in good stead for my future career.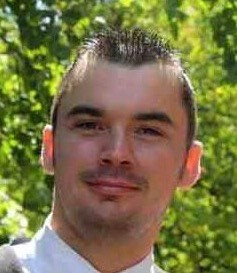 As my time as a chef I have done most styles of cooking, however it is in event cooking that I have excelled in. I have been lucky enough to work at and run some amazing events. The highlight that has stood out for me was being executive chef for the commonwealth games at Hampden and the closing ceremony in 2014 where we were feeding 150 thousand people a day! I've also planned and delivered catering at concerts like Bon Jovi, Bruce Springsteen, Robbie Williams, footballing events such as the Scottish cup final, champions league matches and of course lets not forget the unique experience of running the food operation for the Olympic Games football at Hampden, horse racing events such as Ascot and Cheltenham, the list could go on! 
…
Nevertheless, Spitting Pig Lanarkshire is my one focus now and has been for the last few years and I intend to ensure everyone who tastes a delicious hog roast roll from us never forgets us!
Catering Options To Please Every Guest
Depending on your number of guests, your food will be cooked and served by at least one of our chefs, in addition to assistants and waiters for bigger events. Smaller events can often be catered from start to finish by just the one professional, dedicated chef, as the equipment is easily manoeuvrable, smaller beasts are manageable and we're highly experienced in providing all kinds of food as long as we have prior notice.
While we have many menus to choose from, we do actively encourage our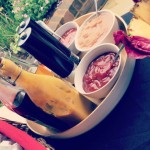 customers to adapt these to your own needs and wants, as we know that even a hundred menus wouldn't provide everything that everyone wanted at a hog roast Galashiels party. There's always someone who wants a homemade haggis! Not only that but we are happy to cater any additional dietary requirements with advance notice, such as gluten-free, vegan or vegetarian options. We have vast experience of doing so already and we know that a hog or spit roast is not everyone's cup of tea and sometimes not an option for religious or personal reasons, so we ensure that there are choices available for everyone. If there's a diet that you need catering that isn't listed, that doesn't mean that we can't, so always tell us your needs and we will aim to satisfy them. Then on the day, our catering team will be happy to provide you with just what you wished for.
It gets even better, not only do we provide mouth-wateringly good food, but we can also provide a full bar service. Whether it be soft drinks, tea and coffee, a prosecco reception or even a fully stocked bar for your event – we have it covered! No need to hire two different companies when we can take care of it all for you.
Hog Roast Caterer
In bygone times, hog and spit roasts were really only for the rich and in recent times they were often only affordable for particularly large corporate events or lavish weddings. These days, this kind of food really is suitable for any occasion you have in mind, any number of guests and for any venue of your choice. A party or event with a hog roast Ayr centrepiece will be the talk of the town, the envy of your neighbours, and something loved by you and your guests any time of the year.