Are you in need of some inspiration for catering ideas for an event or special occasion you have coming up in Hamilton? If so, the Hog Roast Hamilton team are here to help. We have years of experience in providing the finest hog roast catering services in this historic Clyde Valley town and we are considered to be the best hog roast company in the area. Everyone who tries our pork is blown away by its succulence and depth of flavour and our food has been an integral part of many events taking place in Hamilton over the years.
You've struck gold by finding us, much like in 1502 when the biggest golden nugget was discovered in Lanarkshire weighing 27oz. We can cater for your next big event or small special occasion, nothing is too much or too little!
Can't find your town on our list? Don't worry because we cater for all of Lanarkshire and further.
Our hog roasts are so popular because of the unrivalled quality of our ethically reared pork and our expertise in preparing it. We have an impressive range of cutting edge hog roast machines which are both multi-functional and capable of being transported to and operated in any environment. Our dedicated chefs always freshly prepare our meat on-site and will spend several hours ensuring it is slow cooked to perfection until it is melting in the mouth. The rest of our skilled catering team are just as dedicated and experienced, and whilst the meat is slowly roasting, they will be working hard freshly preparing every other part of the menu, using only the best locally sourced produce.
Hog Roast Hamilton's signature hog roasts are always the most popular option for events we cater for, but we also have lots of other exciting choices available, including a whole host of alternative meats such as sirloin of beef, whole roasted free range chicken and tender spring lamb. We are able to cater very effectively for different diets and we are continually developing our range of meat, dairy and gluten-free dishes to ensure all dietary needs are met. We get great feedback from our guests with different dietary needs because we always make a huge effort to accommodate everyone so that all of your guests can enjoy a lovely meal together regardless of their preferences.
Our diverse menus and superior ingredients make our food a great choice for a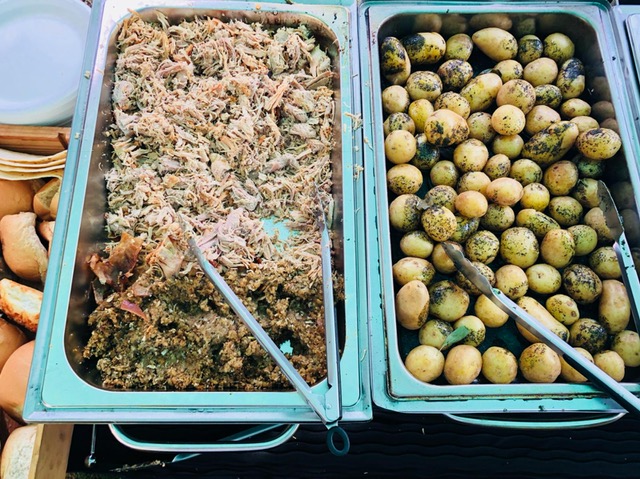 wide range of events and special occasions. Our trademark hog roast sandwiches are perfect if you have large-scale catering requirements, our appealing buffets are ideal for corporate events and family parties, and our refined 3 course meals are perfect for wedding receptions and more formal events. We can even provide a stylish canape welcome reception and full table service if you would prefer a traditional sit down meal.
If you would like to try the best hog roasts in Hamilton, whilst also being spoilt for choice with our varied menus that appeal to all tastes, as well as being assured that you will receive faultless service from beginning to end, the Hog Roast Hamilton team should be at the top of your list for all of your event catering needs in the Hamilton area.