Whether you're planning a posh, once-in-a-lifetime party at a luxurious venue or a casual get-together in your back garden, Hog Roast Shotts has the experience, training and know-how to make your next special occasion a resounding success. We've done it all in the past, so we can cater just about anything you can think of, and with gorgeous food made out of high-quality, fresh, local ingredients. This of course includes the meat that we cook – top-quality, free-range, local goodness, and not only the pigs that we cook in order to make our amazing hog roast centrepieces.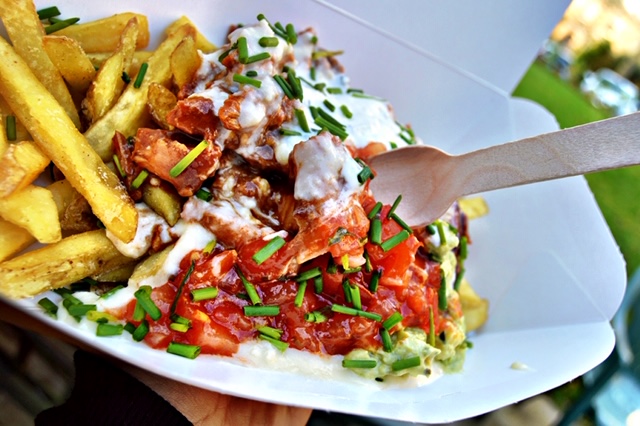 We also make many other dishes too, with alternative meats such as chicken, turkey, lamb and beef all spit-roasted to perfection, whether served as plated meals together with your choice of seasonal vegetables, potatoes and our lovely trimmings, or with tasty sides such as gourmet coleslaw, sweet potato fries or mac and cheese. We can also rustle up one of our stunning standalone menus, like our Alfresco, Loaded Fries, Barbecue or Southern Slow Roast, which all offer something completely different to wow your guests.
Additionally, we offer all kinds of scrumptious offerings to suit various diets, so whether you're inviting vegans or vegetarians or anyone with a food allergy or intolerance, Hog Roast Shotts can cater with ease, as long as we know in advance so that we can make the dishes fresh on the day. Our vegan option of barbecued pulled jackfruit is served in buns with slaw on the side and make a great alternative to our pulled pork, while our famous pigs in buns can easily be made suitable for those with a gluten intolerance by us taking along gluten-free bread rolls and wraps (as all the other ingredients are already suitable!)
Thinking of featuring multiple courses in your menu? You can select from all kinds of canapés, starters, sides and desserts to add to your main. It may surprise you that we offer so much choice and variety but we understand the need for this, in order to cater for everyone you invite. So call Hog Roast Shotts today and we'll help you to create the menu of your dreams!