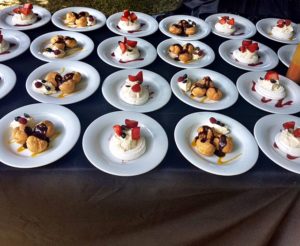 If you are planning a special event or party, the Hog Roast Ayr team is here and waiting to provide you with fantastic food for you and your guests. We have many years of experience. When you hire us, you know that the food you get will look wonderful, taste great, and not be expensive.
Let Hog Roast Ayr work for you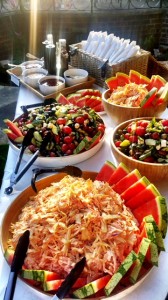 All of the members of our team are professionally trained. We prepare all of the food ourselves, so, you know that it is all fresh. Our range of canapés, salads, desserts and side dishes are all made from the freshest ingredients. Exactly what food is served to your guests is up to you. All you need to do is to select the items you want from our menus, and leave the rest to us. On the day, our professional team will arrive and set everything up early. They will then cook all of the food and make sure that it is ready at the time you want everyone to eat. We can provide roasted or barbecued beef, lamb, chicken and turkey as well as whole spitting pigs. This meat can be served simply in baps with stuffing and sauces of your choice or as part of a buffet. If you prefer we can provide steamed vegetables and a range of potato dishes, which will allow you to have it served carvery style. In addition, we offer a full waiting service, so, if you prefer, your guests can be served at the table.
Cook your own spitting pig
At Hog Roast Ayr, we provide a catering service that is tailored to meet your needs. If you want to cook your own roasted meats, we can still help. We offer you the chance to lease a hog-roasting machine from us, and we train you to make sure you get perfect results. To hire us all you need to do is to fill out our quote form. It only takes a few minutes to do so, and from there we take care of everything else.