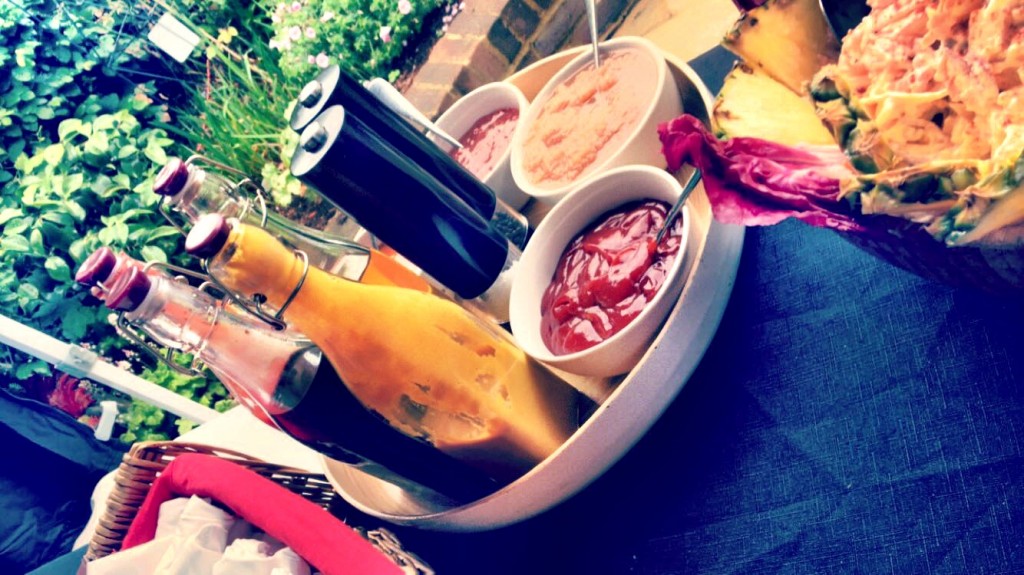 When Spitting Pig Lanarkshire caters for your special occasion, regardless of whether it's a small affair or a huge shindig, we ultimately want you and your guests to enjoy our tasty food. We're famous for our delicious hog roasts, of course, but we can also provide so much more for your event, and we're not just talking about our other spit-roasted meats (although they are equally scrumptious).
Hog Roast Cumbernauld have a multitude of menus that cover weddings, private parties, and corporate hospitality, where you'll find all kinds of options – from our pigs in buns all the way to a fancy 3-course meal including salmon, salads, seasonal vegetables, barbecued food or anything you can think of having. If you have any vegetarian or vegan guests, we can easily cater for them too, with homemade choices like halloumi kebabs, quiche or stuffed mushrooms, plus we have gluten-free options too. If you have any other kind of dietary needs, just let us know and we will do our best to accommodate you.
When it comes to our menus, they are more guidelines than anything and can be adapted if you prefer, or we can help you to create your own tailored menu. We know that variety is the spice of life, especially when it comes to food, so we are happy to assist you with creating the menu that you want, with the food that you love.
Hog Roast Cumbernauld
We're specialists in providing our customers with great catering, whether it's a birthday party in Peebles, a wedding reception in Ayr or a corporate event in Cumbernauld. We cover all of Lanarkshire and beyond, and can help you to host your party in your back garden, in the middle of the countryside or at a posh hotel in the city. We have ample experience of catering many different kinds of events, in many different kinds of locations, from a handful of guests to hundreds. We've done it all over many years, from themed birthdays to christenings, baby showers to hen parties, engagements to anniversaries, wakes and even divorce celebrations. Whatever you're commemorating or acknowledging, a hog or spit roast will do it justice, impress your guests and satisfy your hunger, and if you choose a different kind of food from us, whether a barbecue, sit-down meal or anything else, we aim to do you proud.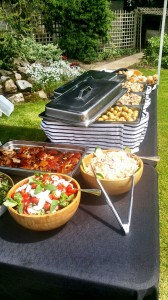 Our flexibility with menus and dedication to a professional service are key to helping deliver on our promise to provide Lanarkshire residents with wonderful food, whatever the event you're planning. Hog Roast Cumbernauld know how stressful it can be to arrange a party, even if it's just for a few people, so you're doing yourself a huge favour by letting us sort out the catering side, meaning less pressure for you and the fact that you'll be able to spend more time with your guests during the event itself. Plus we clear up after ourselves too, so there's no washing up left for you to do!
We prepare everything fresh on-site at your selected venue, using high-quality and fresh ingredients, and you'll see your hog or spit roast cooking away for hours after we've prepared the meat from scratch. When it comes to the meat itself, it has to be local, only the best, and we source it from trusted butchers and farmers that we know and consistently use. We don't skimp on any of our ingredients, as we know that you can taste the difference if something is cheap or low-quality. Most of the lovely compliments we get from our Lanarkshire customers include the words 'fresh', 'quality' and 'tasty' and that is exactly what we strive for, and the proof is in the pudding (and in the rest of the food we provide!)
Hog Roasts Designed By You
Now that you know what to expect from our menus, you can see just how versatile we are in terms of choices and what you yourself can help to create for your own social occasion. We put a great deal of time and effort into ensuring our customers get what they want and that they are satisfied at the end of the day. We're all about the smaller details as well as the big ones, so know that if you hire us to cater for you and your guests, you won't be disappointed.