At Hog Roast Carluke, we know that providing your guests with fantastic food is important to you. Over the years, we have catered for hundreds of corporate events, weddings and family parties, so we know what people like and how to cook it all perfectly. If you want to avoid the stress of catering for a large group, we can help. The experienced chefs at Hog Roast Carluke will arrive early and make sure that all of the food is cooked to perfection and nicely presented.
Fantastic roasted meats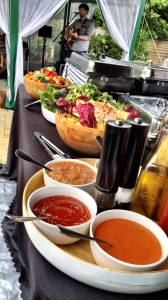 We specialise in producing spectacular spitting pig feasts, but also offer our customers a choice of other meats. Spit roasted beef, lamb, turkey, chicken and gammon all taste fantastic, and are very popular with modern guests. These meats can all be served simply in soft buns with a tasty sauce and stuffing or as part of a hot carvery. Another option is for us to provide you with a range of side dishes to be served with the hot meats. If this is what you want, all you need to do is to take a look at our menus and choose the canapés, salads, potatoes and vegetables that your guests will enjoy the most. These can be laid out on a buffet table so that people can help themselves or plated up and served by our waiting staff. At Hog Roast Carluke we pride ourselves on being flexible and offering a service that is tailored to your needs. You stay in charge and decide what will be served to your guests and when, but we do all of the hard work for you.
Cook your own spit roasted meats
For example, if you prefer, you can do the cooking. Our modern spit roasting machines are easy to use, so we will happily lease one to you. We will show you how to cook any meat you want using the hog-roasting machine you hire from us. Ordering is fast and easy, all you need to do is to fill out the simple quote form. Our prices are competitive and we always deliver an excellent service.