Looking for a unique way to celebrate an upcoming birthday for you or a loved one? Look no further than Hog Roast Lanark! With our diverse menus full of slow roasted items, we aim to please all and can cater to any and all requirements. No event is too big or too small as our Hog Roast Lanark catering teams will be able to scale up or down any menu suited to your needs. Whats more is that with such a wide range of menus we are sure to have food to suit all tastes and our professional chefs will always be on hand should there be anything you feel is missing or that you would like to add.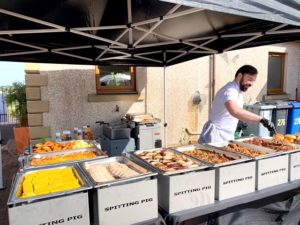 This week Hog Roast Lanark had been enlisted by our client Alan to come and provide a hearty hog roast menu for his daughters twenty first birthday celebrations. Hog Roast Lanark catering team David and Sampathi worked with Alan from the get-go to design a menu that would suit all one hundred guests and be up to the birthday girls' standards.
We arrived at Alan's home bright and early to get set up in the garden and get our food cooking away ready for the service time of 4pm. Alan had spoken to his daughter and together they had decided on our southern slow roast menu. This menu is a fantastic choice if you are looking for something different to entertain your guests and with flavour inspired by the deep south of the US this menu sure does pack a punch. We prepared three different meats for the event including BBQ Pork butt, Cajun spiced chickens and Creole pulled lamb. In terms of accompaniments we had the all-American favourite of Mac and Cheese, Corn cobettes, Green leaf salad and some Cajun sweet potato wedges.
Once the guests arrived and happy birthday had been sung, we took that as our queue to get serving all of the guests…