Following the successful integration of the River Clyde Homes repairs team with Home Fix Scotland, celebrations were most definitely in order for these two companies, and knowing that nothing quite goes down with the masses like a hog roast does, Denise reached out to the Hog Roast Greenock team about catering for an outdoor event with enough grub to feed 135 people! After a quick discussion with our expert catering manager John, Denise opted for our corporate hospitality menu 4 which features a formal buffet with friendly waiting staff, china crockery and cutlery and of course, an experienced chef.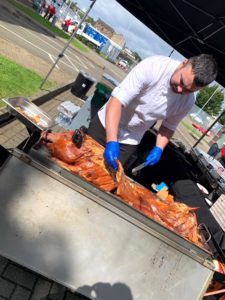 Now I know what you're thinking: "Is there ever a right time to host an outdoor hog roast in Scotland?" Well, thanks to our easy-to-use gazebos the Hog Roast Greenock team (and most importantly the mouth-watering food!) is always shielded from any potential downpours – so needless to say, we've got you covered! On this occasion, however, we're pleased to share that the weather remained on its best behaviour!
In order to meet the 12:00pm serving time, the Hog Roast Greenock crew arrived on site in the early hours of the morning where they quickly set up our portable equipment and launched themselves into preparing the afternoon's meal, starting with the whole pig which was evenly scored and slow-roasted until it turned golden brown with crispy crackling. By the time staff began arriving in the late morning, the catering team had created 70 100% beef burger patties along with a selection of delicious sides which included platters of colourful mixed salad, Chef's pasta salad, crunchy coleslaw and chips. For those following plant-based diets, the crew had also laid out a meat-free alternative of grilled vegetable skewers with the option of added haloumi which paired nicely with the inclusive gluten-free rolls and as well as the tantalising food, refreshments were offered to each guest in the form of a chilled soft drink in a disposable cup.
With more than enough food to go around, the day was a huge success and left the attending guests excited about the future of their companies.