Hog Roast Greenock were busy this week as we had been asked to cater for an event at the famous James Watt Dock Marina! Having never catered at the marina before the whole Hog Roast Greenock team were looking forward to spending some time at the stunning docks.
For those who don't know James Watt Dock Marina is home to a historic dock setting that offers unbeatable opportunities for boaters and claims access to some of the best waters for sailing at all tides whilst also offering room for approximately 100 berths! The marina itself really is beautiful especially when you get to see all the fancy boats and equipment lied up. Plus, by having such brilliant transport links the marina is popular with visitors both local and from further afield.
For this event we would of course be catering outdoors to make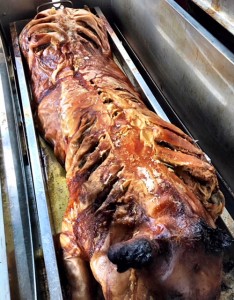 the most of the views. We had set up a station from which to serve and already tables had been lined up for all of the hungry guests we were about to feed our delicious Hog Roast Greenock too. We had been asked to provide our classic Hog Roast Greenock rolls. That is a succulent pig that we slow roast to ensure the best flavour and then carve and serve in a variety of freshly baked bread rolls. Of course, theres always lots of crispy crackling too and homemade applesauce that really is the pièce de résistance! For the vegetarian guests we also created something special for them too in the form of our delicious grilled vegetable and haloumi skewers along with some mixed salads and crunchy coleslaw.
With a guest list of one hundred people we had our work cut out for us, however, this is after all what we do best here at Hog Roast Greenock and we just love to see the happiness on people's faces once they've tried our food and realise theres still some left for seconds!