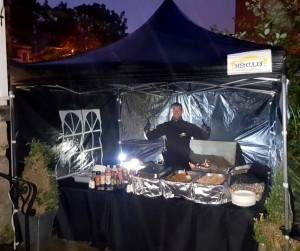 What a summer we have had so far and Hog Roast Paisley were thrilled when asked to cater outdoors for 65 people at Devonshire Gardens in Glasgow recently.  Our clients always have high expectations of the food and service that we deliver and we never fail to live up to the expectations and always strive to surpass them; this event was likely to be one of the more challenging ones as the weather forecast was for high winds and rain…
Hog Roast Paisley regularly caters for private parties, corporate and charity events and weddings and in all cases, and for all events, we have a wide range of menus to suit the venue location, style and budget for each client and we recognise the absolute requirement for excellent food and professional service.  The menu selection is available online and ranges from our famous and delicious hog in a roll service as an informal option through to more formal seated and plated service but with the hog roast as the main attraction.  We can cater for any tastes, with regular requests for vegetarian, vegan, Halal and wheat-free food; we can also prepare and serve fantastic desserts for those with a sweet tooth too!  For this event, the client wanted our hog in a roll but also with our legendary veggie skewers and to be serving at around 9pm.
Well, it was clear as we were preparing our equipment to set off that the sun had forsaken us and that we may need our wellies; one thing was for sure though – we weren't going to let a bit of rain and wind spoil our mission; to deliver great food and service no matter what!
Buffeted by the wind and pelted by the rain, we liaised with the client and set up our equipment.  Once the guests started arriving, our chef got the hog roast started so that everyone could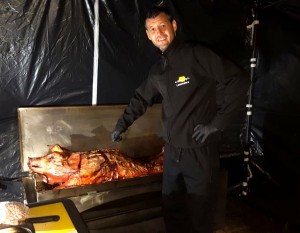 smell the mouth-watering aromas to get the stomach juices flowing and this created immediate interest with many guests; once we started serving, many came back for seconds and commented on how delicious the food was and how impressed they were with our resilience – we may not be able to control the weather but we can still put on a fantastic event when it is not on our side!