As the weather begins to warm again and we wave goodbye to the stiff jointed grip of winter, many people like to get outside and enjoy the fresh air and the sunshine. Although not quite as warm as the summer, spring is an excellent time to celebrate, as not only do the days get longer and warmer, but life once again begins to flourish, visible in the vibrant flowers and plant life that grace our gardens. That's why the team at Hog Roast Ayrshire are on hand to help, as they want to make sure your event is as good as it can be.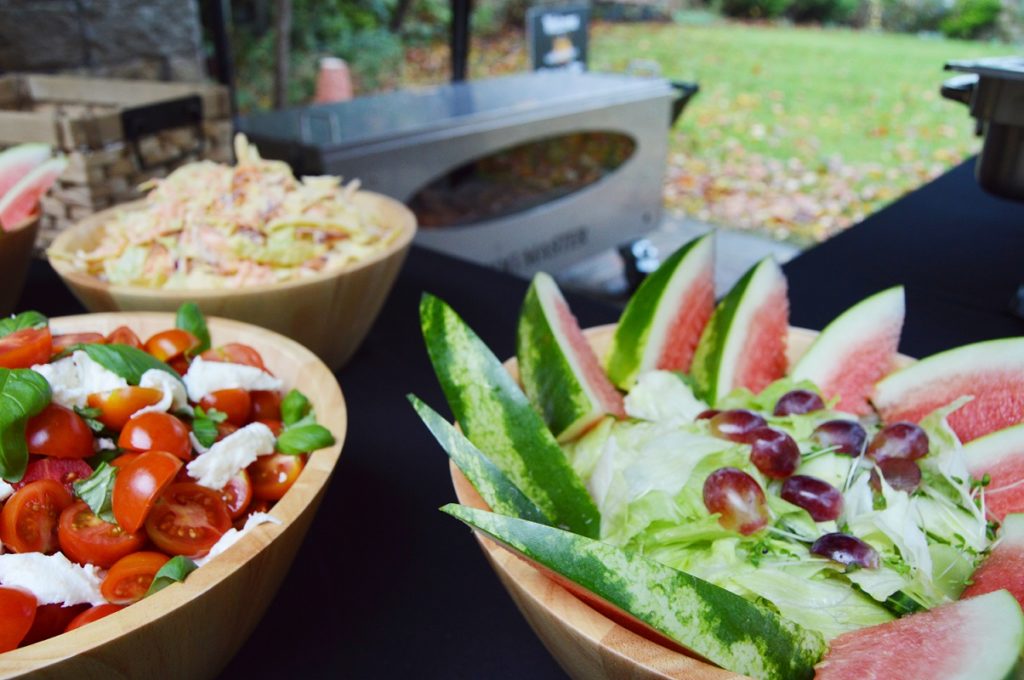 One couple who knows this for themselves is George and Penelope. Like many others, they wanted to get outside once spring arrived but were unsure about hosting an event, as the air still has a chill and the ground is still laden with moisture. Our team at Hog Roast Ayrshire were able to talk with George and Penelope about their planned Garden Party and walked them through ways to make sure their guests would be warm, comfortable and fed. We arranged for a tarpaulin ground cover to be placed over the still wet lawn to act as dining floor, were we set up tables laid with elegant centre pieces and cutlery.
For their garden party, George and Penelope wanted drinks service as well as a Hog Roast Buffet for the guests to enjoy and of course our fabulous chef and waiting staff were there to make this happen. In addition there were also a selection of canapes available. Guests could choose from the Hallomui Kebabs; the Dim Sum; The Wild Mushroom Bouchees with a creamy garlic and thyme filling; Mini Pizzas; or the roasted Duck in a Honey and Mustard glaze, wrapped in Chinese pancakes. Following the selection of canapes, the Hog Roast buffet was ready, and guests queued to be served the wonderfully golden brown Hog with crispy crackling.
George and Penelope were exuberant with their garden party and couldn't thank the team at Hog Roast Ayrshire enough.