When you're looking for caterers to provide not only tasty, fresh food but also first-rate service, look no further than Hog Roast Newton Mearns. We're proud of the gorgeous food that we make using fresh, local, high-quality ingredients, but we're just as proud of the service that we provide, as we always go the extra mile for our customers and their guests, from the first phone call that you make to us, to the time that we're discreetly clearing away after we've satisfied everyone's hunger. And when we satisfy hunger, we like to do so with everyone invited to your party or event, so that includes guests with dietary needs, different personal tastes or bigger appetites.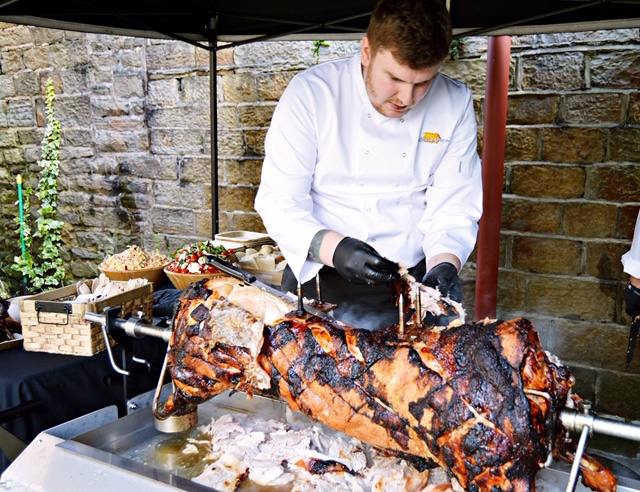 While many of our customers ask us for a sumptuous traditional centrepiece hog roast, either for us to make a plated meal with potatoes and vegetables or for us to make our amazing pigs in buns, we're also often asked for alternatives and additional dishes. We can provide an array of alternative mains for carnivores, like spit-roast turkey, chicken, lamb or beef, a barbecue of burgers and sausages or a selection of marinated meats. Nevertheless, we also offer main course alternatives for non-meat-eaters, like vegetarians, vegans or those following a plant-based diet, as well as options for those with allergies or intolerances, like gluten-free or dairy-free. We've also always included options for varying appetites, so you can order just a main course if you prefer, or you can order several courses, more than one main, as well as canapés and drinks if you like instead. Whatever you're organising, we have the choice and variety to make it happen.
Hog Roast Newton Mearns recently catered Alan's private party at a local social club, where we slow-cooked a hog outdoors for hours on end so that we could make piles of amazing pigs in buns for most of the fifty guests and we also made veggie skewers for the vegetarians, with chunks of fresh halloumi, mushrooms, peppers, courgette, red onion and tomatoes. Alan was very happy that we could easily cater for a special diet and we were more than happy to make sure that everyone invited could eat our tasty food.