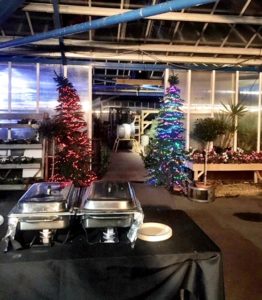 Recently, the Hog Roast Symington team was hired by Hayes Garden Land to help them cater for one of their events. It was a Christmas party held at their business' location in Symington and they were hosting an event to celebrate the festive season. The party was opened to the public and may locals arrived to join in the Christmas party. The team set their equipment up inside and roasted their hog in their machine at the venue.
The Hog Roast Symington team were hired by Donna who did a fantastic job of organising the event. She selected the Hog Roast team's 'Menu One' for the customers of the party completed with a classic Hog Roasted Pig. The menu was a great twist on the team's usual traditional and rustic style food and the customers loved it. Donna requested that the Hog Roast Symington team made enough food for 350 people and the team did not disappoint. In addition, they wanted the food to be served from 6 pm through to 8:30 pm so the customers could enjoy the food throughout the night. The team worked hard to ensure that the food available to the customers was topped up and that there was always enough for everyone.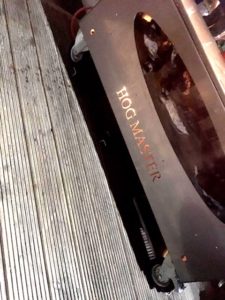 The Hayes Garden Land team had done a fantastic job of decorating the venue and the place had a very festive feel. They had put great large Christmas trees up everywhere and the room was sparkling bright with lights. They hired a local musician to provide some entertainment to the guests and he received a brilliant reception from the customers. In addition, the Hayes Garden Land team also hosted a raffle and offered some great gift basket prizes to their customers. The event was a fantastic success and all the customers appeared to really enjoyed the food. There was also lots of extra snacks on offer from party food to cakes. It was a great night for the business and they joint collaboration of the Hog Roast Symington team and the Hayes Garden Land team to create a fantastic event.