Recently, the Hog Roast Paisley team were hired by the Suzanne, a member of the local Ladies Golf Club. Suzanne wanted to host the event at her home address and the Hog Roast team were more than happy to provide their service to her party. The event was a Christmas Party for all of the members to celebrate the festive season together.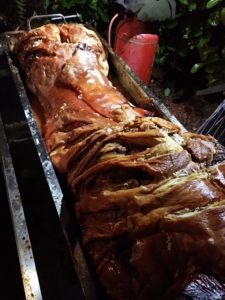 Suzanne chose the Hog Roast Paisley team's 'Menu One' which hosted a fantastic roasted hog which was cooked on site at the hostess' house. In addition, the team cooked up their classic vegetable skewers for vegetarians. The event was for 30 people and, therefore, it was essential that the Hog Roast team ensured that they delivered a casual and friendly service to bring a great atmosphere to the party and ensure that the party felt like an intimate event.
The Hog Roast team cooked the food under a marquee in Suzanne's garden which perfectly suited the team. The Hog Roast Paisley team is suited to cooking their buffets both indoor and outdoor which makes them completely flexible for any event. In addition, if there is no space available for the team to cook on the premises, the team are happy to cook the hog in advance and deliver it to the venue hot and fresh. Furthermore, Suzanne requested for the food to be served at 6:30 pm so that it would slot in perfectly with her party and so the team delivered the buffet right on time. They cooked the hog in the team's specialised Hog Roasting Machine and the team ensured that it was beautifully cooked for Suzanne's party.
The service was led by the Hog Roast Paisley team's very own Catering Manager, John, who worked hard to ensure that everything was cooked to absolute perfection and the festive food was of the high Hog Roast standards. John led his team through the service and the cold weather did not deter them as they worked hard on perfecting the food. The ladies appeared to love the food and it was a great way for the friend group to have a lovely festive evening together.