Last weekend we travelled to Largs to serve our renowned hog roast to over 100 hungry guests. The company had decided to hold a get together for their hard working employees who had consistently met their targets across the financial year. Naturally, they needed enough meat to feed the small army of employees and having Hog Roast Largs was seen as the best way forward. So, with that in mind, we prepped our culinary kit and served the staff with a feast to remember!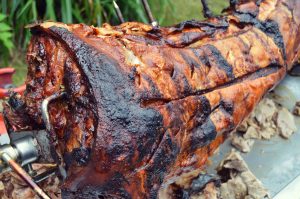 Our chefs are well versed in moving quickly but maintaining the high level of quality that we're famous for to avoid long lines. We knew that if we were going to impress the company community, we needed to serve up a perfect Hog Roast Largs that would be talked about with fondness in front of the water cooler come Monday. Our hog roast was prepped and cooked to perfection, we pride ourselves on maintaining the flavour no matter where we are in the world, and judging by the queues for seconds (and thirds!) it's safe to say our hard worked well and truly paid off.
We love catering for large events and serving our Hog Roast Largs to a party of staff that had earned a well-deserved show of gratitude meant we wanted to go above and beyond to satisfy their hunger. We spoke to a few of the organisers after the event to triple checked we had matched their expectations and they let us know that quote "they'd never seen their staff so excited about the food", and considering that there was a free bar, that was something to be particularly proud of.
If you have an event that you'd like us to cater for, you can contact us and book our services. We'll need to know a little bit about the size of the party, the venue (just to check it can handle our mighty hog roast) and any dietary restrictions that may mean a change in recipe. With the festive season coming up, you'll need to get your bookings in early so call up quick and we'll see how we can help you celebrate a successful year.