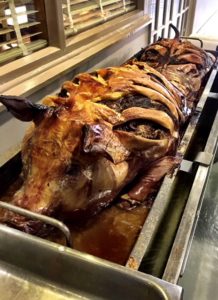 A previous customer of Hog Roast West Kilbride, Craig, recently hired the team for an event hosted by his company Wilsons Auctions. Craig was hosting an auction for which he needed to cater for. Fifty people were attending the event in Dalry and so they required a large buffet. Craig chose to select menu One which would ensure that there was something for everyone on the buffet.
The Hog Roast West Kilbride team's menus offer huge variety to their customers. Their menus ensure that the Hog Roast food is available to all guests by providing vegetarian and vegan options to those with food preferences. In addition, the Hog Roast team offer options for those who require gluten free and allergy-tolerant foods.
The event was catering for by Head Chef Jon who ensured that the cooking of the buffet ran smoothly. Craig requested a vegetarian option so the Hog Roast West Kilbride team provided vegetarian skewers to suit his guests. The event was a success and the Hog Roast complimented the event well. The survive delivered by the team maintained its expectations of a fantastically efficient service. In addition, the team's service was friendly and they maintained a lively atmosphere throughout the event.
The Hog Roast team catered for the event inside so that the guests would not have to brave the winter cold for the buffet. The event was for car auctioning and, therefore, the guests would require a substantial buffet as they would spend most of their day at the auction. Craig was pleased with the turn out of the Hog Roast West Kilbride's catering service and hired them because they provided a brilliant service the first time he had hired them.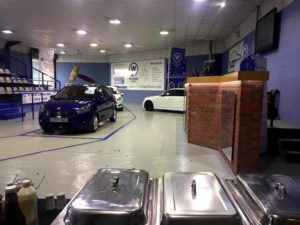 Overall, the Hog Roast team was perfect for this event as the guests could enjoy a casual buffet. In addition, the auction building was not suitable for a sit-down meal so the buffet was the best way to serve the guests. The food needed to remain fresh, but warm, so that the guests could return for second portions and the Hog Roast West Kilbride team were perfect for this arrangement