This year has all the makings for what's sure to be a beautiful summer, and what better way to enjoy the warm sunshine and clear blue skies than by surrounding yourself with friends and family for an afternoon in the garden? We certainly can't think of anything we'd enjoy more, particularly after a long year of minimal contact and social restrictions! So with that, prepare to pull up a deck chair and dust off the garden furniture, because this year, the Great British Summer is back with a vengeance!
Of course, as everyone already knows, a get-together of any kind just wouldn't be complete without there being some tasty food to go around. This is where Hog Roast Ardgartan comes into the picture.
With a comprehensive selection of fresh, wholesome catering plans on offer, covering everything from the informal to the formal, Hog Roast Ardgartan is perfectly equipped to handle any event you can possibly imagine. Notice how we said fresh? That's because, unlike some other mobile catering services out there, we are 100% committed to delivering the freshest, finest quality food possible; and to do this successfully, our team spends several hours cooking on-site before your chosen serving time; using ingredients sourced from accredited local farms and outdoor markets.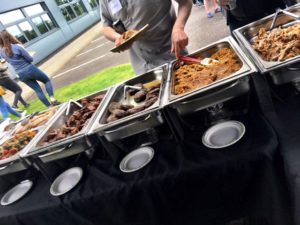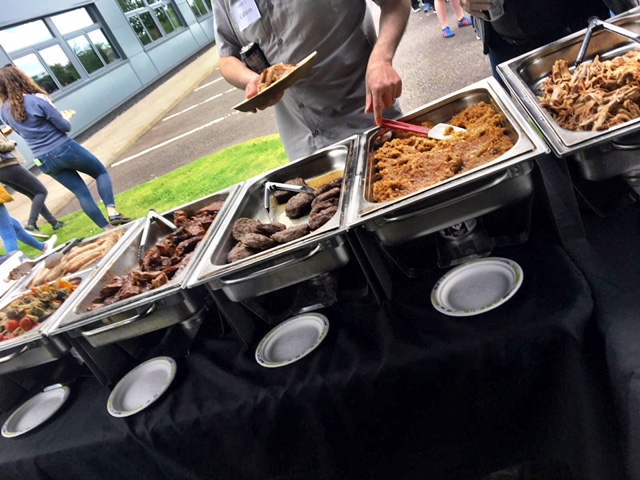 Not only does this mean that your arriving guests will be greeted by mouth-watering aromas of spit-roasted meat and steamy sides – if that's what you choose – but they'll also get the pleasure of being able to witness the splendour that is the hog roasting process. Just think of it as being dinner and a show all rolled into one!
Once the food is ready, our team of specialists work quickly and efficiently to get everything served up in a visually appealing way. Our colourful salads, for example, benefit from borders of sliced watermelon, whilst our bread rolls and wraps are piled delicately into wicker baskets or bamboo bowls. The meat is kept piping hot using chafing dishes that your guests can help themselves to when you opt for our buffet-style serve.
No matter what event you're going for this summer, you can trust Hog Roast Ardgartan to deliver an exceptional group-dining experience!