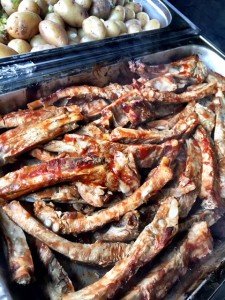 Hog Roast Cumbernauld is an excellent choice of caterers no matter the occasion and whether you need tasty homemade food for private, wedding or corporate catering. We were recently asked to provide the latter for an event at Kelvin BBB in Cumbernauld, where we would cook a hog roast and a barbecue for 100 guests. Kelvin BBB is a leading manufacturer of quality kitchens, bathrooms and bedrooms, with a 106,000 sq ft purpose-built facility in Cumbernauld itself and a showroom in Stansted.
For this function, Laura asked us for our Menu 3 of a slow-roasted locally-sourced hog with all the trimmings – crunchy, salty crackling carved fresh off the hog, as well as tangy apple sauce and tasty sage and onion stuffing, which are both our homemade specialties. Laura also asked us to cook ribs, gourmet sausages and burgers, veggie skewers and herby new potatoes, provide some freshly-prepared salad dishes and bring along lots of fresh bread rolls and sauces. There would certainly be plenty of delicious food to go around at this event, with options for all tastes, and with a vegetarian choice too. We want everyone to enjoy our food so we're always happy to make alternative dishes for guests with dietary needs, as well as additional options, as you can see from this menu.
We arrived at the venue, Kelvin BBB itself, at Hunt Hill in Cumbernauld, ages before the afternoon service, as it takes a
good few hours to roast a quality hog to perfection. After setting up our gazebo and serving tables, Hog Roast Cumbernauld Head Chef Andy and his team got to work preparing the meat by scoring it, covering it in water and then lovingly massaging in plenty of salt. Once done, we would watch over it to ensure it cooked thoroughly through and through. Sometime later, we got cracking with the other meat dishes, the potatoes and the skewers and then the salads, making tomato and mozzarella and green leaf salads and our homemade coleslaw.
By 3.30pm, our Hog Roast Cumbernauld team were finally ready to serve the hungry guests at Kelvin BBB loads of lovely food.