Whether you are planning a wedding, christening or birthday Hog Roast Edinburgh are guaranteed to be able to provide you with your dream catering menu! Thanks to our fully flexible style of catering nothing is out of the question! No matter how many guests you are inviting or any dietary requirements, Hog Roast Edinburgh can cater to all!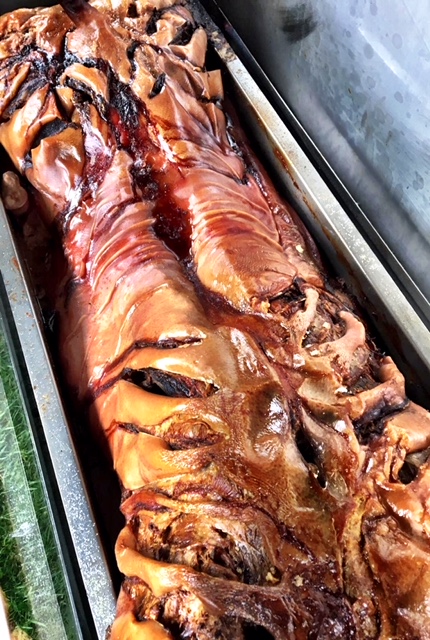 This week we had the pleasure of catering at garden party in Edinburgh to help celebrate a 40th birthday party. The event had been booked by Emma who had requested our catering manager, John, to provide our classic Hog Roast Edinburgh roast. This is our signature dish as you can imagine and always is a favourite with our clients. To prepare the perfect, most succulent hog roast our chef ensures he cooks the meat in our trusty machines for several hours. This allows the meat to become packed full of flavour and means that when serve time arrives the meat simply falls off the bone and struggles to hold its shape due to being so succulent.
As today's serve time was scheduled for four o'clock, we would have plenty of time to get everything ready. In addition to the hog roast Hog Roast Edinburgh would be serving up our vegetable skewers for the vegetarian option which are always a crowd pleaser.
By the time serve time rolled around everyone was in good spirits celebrating the birthday and it wasn't long before everyone had had their fill of Hog Roast Edinburgh. As always once guests have eaten, we like to discretely pack away and wrap up any leftovers for our clients to enjoy in the following days. By doing this we are able to leave our clients to enjoy their event and make sure they have nothing to worry about in terms of cleaning up or saving their food.
All in all, it was another lovely event and we are proud to have helped in the celebrations!