"On the Bonny, Bonny Banks of Loch Lomond" so the song goes, and this was our location for Hog Roast Alexandria recently when asked by Malcolm to cater for 45 people.  We deliver hog roasts all over the UK and in many beautiful locations, but this area really does take some beating.  Catering for this type of event is something that Hog Roast Alexandria excels at alongside catering for weddings and corporate events and a wide selection of menus is available that will ensure that guests will always go away fulfilled and satisfied that the food that they have eaten has been high quality, delicious and with a professional service.
When asked to cater for this event, Hog Roast Alexandria liaised closely with the client to discuss the menu and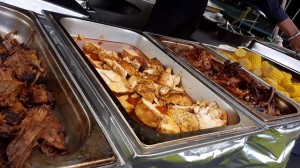 arrangements and in this case, the client wanted our Southern Slow Roast with beef brisket, whole roast chickens and sticky pork ribs.  As sides, we also serve coleslaw, corn cobettes, green salad and potato wedges – all delicious!  The high quality of our food speaks (tastes!) for itself and with our outstanding service and very flexible and adaptable menus, makes us stand out from the competition; there are many good caterers for this type of event, but these are some of the things that makes Hog Roast Alexandria exceptional.
We started serving when the guests were ready and as they had already got a whiff of the delicious aromas of the food that we were preparing, they were certainly ready for their food!  Needless to say, the diners were excited and delighted at the food we had to offer with very complimentary feedback on the quality and service that we gave.  Even though this was for a relatively low number of guests, we always ensure that all expectations are at least met, and often exceeded and we never compromise on any of our strengths – we regularly cater at events for hundreds of guests with many different dietary requirements but whatever the event and whatever the numbers, you will always be more than satisfied with Hog Roast Alexandria!