Now that lockdown is practically over in Scotland, there's never been a better time to get the family round for that much-needed catch-up you've all been promising to have. But whilst we all know that good scran is the key to making your event feel complete, the effort it takes to cook and serve everything yourself, paired with the thought of scrubbing the mountain of dishes leftover at the end of the night? Well, that's probably enough to make you want to pull the plug on the whole thing, am I right?
That's why you need Hog Roast Saltcoats on your side. So that we can handle all of the food-related duties, and you can kick back, relax and enjoy some quality time with your loved ones without the burden of having to run around like a headless chicken after oven timers and make sure everyone else feels taken care of. As the host, you deserve to enjoy your event too, and with our team in charge of catering, you'll definitely be able to.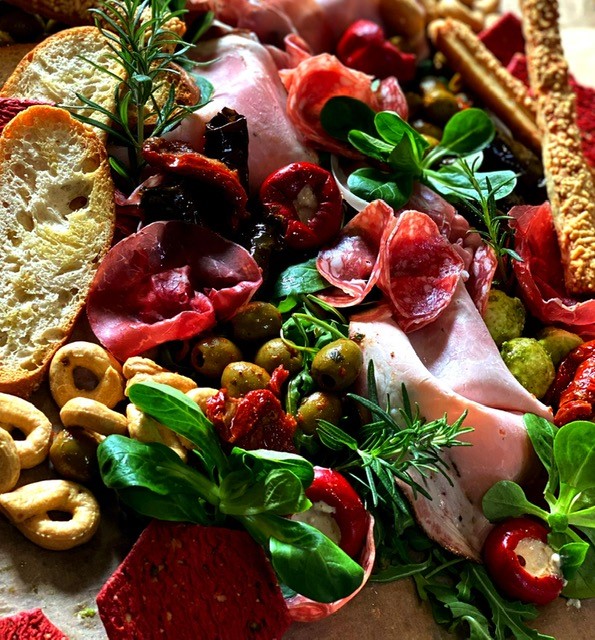 Lindsey was the latest in a long line of clients to enlist in our services for this very reason after she and her husband, Jamie, had planned to host a dinner party for both their families, who they hadn't been able to properly meet up with since Christmas 2019! And upon speaking with our Hog Roast Saltcoats catering manager, John, about the details for their event, the pair quickly placed a booking for our delicious Alfresco Menu.
The dinner went ahead on Saturday afternoon, and while they had originally intended to enjoy the meal in the garden, the Scottish weather put a definitive stop to that with temperamental rain storms that poured down all day. Fortunately, though, with enough ventilation, Hog Roast Saltcoats' machines can be used indoors, so John set up the equipment in the conservatory and prepared the entire feast from there.
Lindsay and John had a fabulous time catching up with their families, and the flavoursome spread, which included everything from Italian-inspired charcuterie boards and succulent slow-roasted pork with all the bells and whistles to a gourmet dessert, was well received by the guests!