Pudding is always a good idea! If you wish to add on a sweet treat to your event just get in touch! Hog Roast Annan has plenty of options and if you would like something specific just enquire and we will be happy to oblige! 
Hog Roast Annan's current dessert list is as follows:
Cheesecake

Profiteroles
Sticky toffee pudding
Vacherin of strawberries 

Lemon tart
Fresh fruit salad 
Summer pudding 
Other desserts we have served over the years include apple pie, fruit tart, strawberry tart, trio of desserts, pecan tart and apple crumble. All desserts are served with cream and are vegetarian friendly. If you require a vegan option, fresh fruit salad is the obvious choice but we can also do vegan chocolate torte which always goes down well with the vegan guests.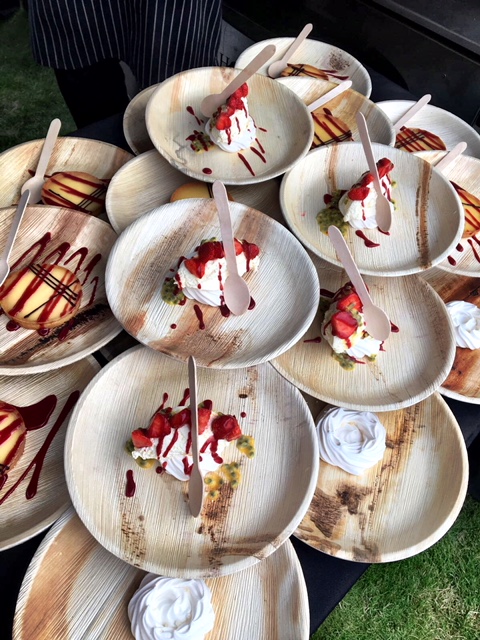 Hog Roast Annan's individual cheesecakes are always a crowd pleaser. Most people opt for the New York cheesecake, chocolate or lemon. They are served either round or square with a chocolate swirl on the top. Completely indulgent and lovely and light! A popular choice with many customers. 
The summer pudding is a less popular option but is extremely delicate and delicious. It is a dome filled with dark forest fruits and bread chunks. A lights version of bread-and-butter pudding!
Hog Roast Annan would definitely recommend the rich chocolate torte! A multi-layered dessert creating pure happiness to the indulger! Has layers of decadent milk chocolate mousse, creams, sponge and a glazed dark chocolate top. So delicious! 
All of Hog Roast Annan puddings are made with love, they look the part and are extremely tasty. Your guests will be happy with any of the choices as they are as equally delicious as the other. Why not add a sweet treat on to your menu? What you fancy not there? No worries just ask and we will do our best to provide what you wish for!