If there's one thing Scotland is famous for, besides our whiskey, tartan, buttery shortbread and haggis (not together, of course!), it's having notoriously bad weather. And even on the very rare occasions, where we wake up to sky-splitting sunshine seeping through the blinds and bright blue skies, you can usually guarantee that by noon, the facade of warmth will be replaced by dark and imposing clouds; the universal signal that a storm is brewing.
Experiencing all four seasons in one day isn't at all unheard of here in Scotland. In fact, after being lulled into a false sense of security that it's going to be a beautiful day, many of us have made the sheepish trek home through blustery winds, torrential rain, or, on some occasions, even a snowstorm whilst wearing flip flops and shorts. If we don't laugh, we'll cry thinking about it!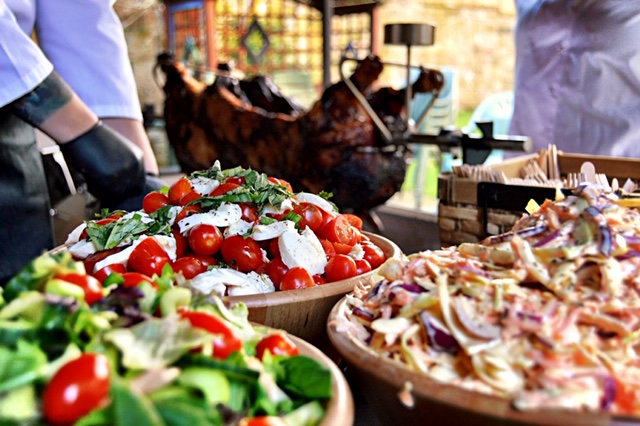 But sometimes, just sometimes, the weather doesn't let us down. And on those days, we've learned that it's important not to let the rare window of opportunity slip by without celebrating properly, which is why we wanted to take this moment to remind you that with most of the country now in level 2 lockdown restrictions (woo!) Hog Roast Dalry is back, and we're ready to cater for your garden gatherings, outdoor birthday celebrations or anything else you have in mind – just give us a bell and we'll be happy to walk you through the process.
With the scorching summer weather already making an appearance, our catering manager, John, along with the rest of the Hog Roast Dalry team, have had their hands full as of late, with everyone in the vicinity hoping to enjoy one of our famous mouth-watering spit-roasted pigs in the sunshine. The good news is that we still have some space in our diary left – although these slots are filling up fast.
So, if you're looking for the perfect way to spoil your family after a rough year, or have a monumental occasion in need of celebrating, then don't hesitate to get in touch with our team here at Hog Roast Dalry.