Getting a takeaway is a great weekend treat- or an ideal pick-me-up for the middle of the week. Whatever your reason for getting a takeaway may be, this shouldn't have to limit you on flavour or quality. Hog Roast Neilston offer a similar takeaway service, providing excellent dishes delivered straight to your doorstep. If you choose to try our gourmet delivery service- here is what you should expect!
The first step to booking your gourmet meal delivery service is deciding which dishes you want to order. We can provide starters, main courses, and desserts if you are feeling fancy- or just one or two of these courses. Your delivery package is entirely up to you and we always aim to provide the perfect menu.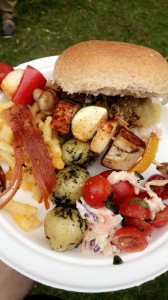 If you're interested in starters, why not choose our soup of the day or fresh salmon? Some of our most popular main courses include slow-roasted pig, whole-roasted chicken, succulent beef burgers and delicious lamb. Every main course is served with a selection of side dishes and salad options, ranging from seasonal vegetables to homestyle chips. Hog Roast Neilston also have plenty of incredible desserts, such as profiteroles, cheesecake, sticky toffee pudding, and fresh fruit salad.
Once you have decided on your menu, it is time to book your delivery slot. All you need to do is get in touch with our Hog Roast Neilston booking team and let us know the dishes you wish to order and the date and time desired for your delivery. We will do what we can to match your chosen time for our contact-free delivery.
On the day of your delivery, your dishes will be carefully prepared and dropped off at your doorstep. This allows you to safely enjoy our famous Hog Roast Neilston dishes from the comfort of your own home- what could be better?
We hope that you are interested in trying our gourmet meal delivery service! If so, get in touch with Hog Roast Neilston today to book your delivery slot. We have a dish for everyone and something for every household to enjoy! We hope to hear from you soon.