When Duncan asked Hog Roast Clydebank to create some delicious food for his girlfriend Lacey's birthday party, it wasn't just one of our famous hog roasts he was asking for. While we cook amazing hog roasts and get fantastic feedback about them, we also make so many other dishes to satisfy our customers and their guests too. If you're after spit-roasted chicken, turkey, lamb or beef, we're famous for those too, and we can also cook up a storm with one of our barbecues if preferred, with ribs, sausages and burgers. You may prefer several courses for your special occasion, like a hot or cold starter, followed by a cooked main and a handmade dessert too. Plus we also have a menu that ensures everyone is satisfied – our Southern Slow Roast, with three meats, four sides and a veggie option too.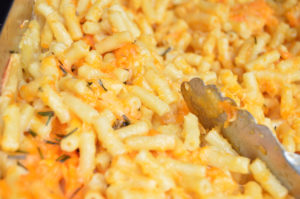 However, for Duncan's girlfriend's party, he wanted Hog Roast Clydebank to make pigs in buns from a traditional hog roast centrepiece, as well as supply some more side dishes. We have a wide array of options for you to choose from when it comes to sides, and you can mix and match items from our menus to your heart's content. We love to see everyone enjoy our food, whether that's with personal tastes or if any guests have dietary requirements. Duncan asked us to put together a selection of salads, cook our spicy sweet potato wedges and also make a mac and cheese, and all of these would be suitable for any vegetarian guests, as well as for everyone else to enjoy.
On the day of Lacey's 30th, Hog Roast Clydebank arrived at Duncan's home that he shares with her, and set up our equipment in the back garden in the chilly air. We warmed up soon enough, though, once the pig was cooking, and after a few hours, it was time to cook the mac and cheese and wedges too. We prepared a tomato salad, a Greek salad and our homemade coleslaw too, and once all the fixings were ready for the pigs in buns, including fresh bread rolls, stuffing, apple sauce, and condiments, it was finally time to serve.