This Tuesday Hog Roast Greenock were invited to cater at a christening. Christenings are always such lovely events as they welcome in a new family member and get all of the extended family together for the day.
Johnny and Lydia were excited to christen their baby boy, Lewis, at the local church. After the ceremony they had hired the church hall out and wanted us at Hog Roast Greenock to provide a small menu to their guests whilst everyone got the chance to meet Lewis if they hadn't already.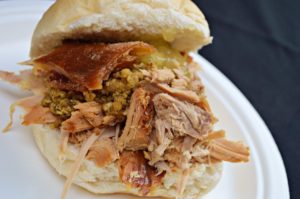 The christening was being held at 1 o'clock so we had a serve time of 2.30pm and approximately forty guests to cater for. As this was more of a late lunch, we were asked not to bring too much food as they would probably all go for a meal later in the evening to celebrate further but they wanted to have a caterer anyway for after the service to put people on till later. We agreed with Johnny that a menu of our classic hog roast rolls would be ideal along with a couple of vegetarian options and burgers for the kids.
As we didn't have access to the church hall until later, we were able to get the hog roasting first thing in the morning from our base so that we could transport it to the venue later on to finish cooking it and to ensure that the meat would be perfectly succulent ready to be served up. Along with the meat we had our homemade Hog Roast Greenock applesauce, crispy crackling and floured rolls. The vegetarian option of the day was our lovely Hog Roast Greenock vegetable tart and of course some butcher's selection burgers for the younger, fussier guests.
We had a lovely day at Lewis' christening and want to wish the family all the best for the future with their new family!