Hog Roast Hamilton recently catered a party for one of our long-term customers Marie, who asked us to cook a traditional centrepiece hog roast for her mum's 70th birthday. We've catered all kinds of special occasions over the years, with birthdays often featured, and especially milestone birthdays of course. With our delicious food and excellent service, you can't go wrong with impressing your guests, and Marie knows this all too well, as she has asked us to cater for her many times in the past.
For her mum's birthday party, we would be making our famous pigs in buns from the hog. We prepare the fresh, local meat at your venue, then cook for hours on end until we get a perfectly crisp and salty outer and a soft and moist inner, with the pork just melting in your mouth. Once we've carved away and filled trays with both the crackling and the meat slivers, we add bits of both to floury bread rolls and wraps, add a dollop of our homemade apple sauce and a mound of our homemade sage and onion stuffing, and then it's yours to add your choice of condiments to before devouring.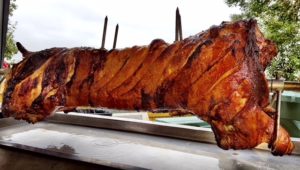 On the morning of Marie's mum's birthday, Hog Roast Hamilton set up our equipment in the back garden of the birthday girl's home and got to work prepping the meat. Before long, the hog was roasting away and filling the air with those unmistakable aromas, and both Marie and her mum licked their lips in anticipation.
We had also been asked to provide a vegetarian option for one of the guests at this intimate party, so later on, we would be making veggie skewers from scratch, grilling tasty halloumi, tomatoes, mushrooms, mixed peppers, courgette, and red onions.
By lunchtime, our Hog Roast Hamilton team had set the meat aside to rest for a short while, while we cooked the vegetarian kebabs, sliced the bread rolls, and got the sauces and condiments ready. Finally, it was time to serve the guests some lovely, homemade food and to toast the birthday girl, and it was fair to say that everyone came back for seconds or more.