Hog Roast Hawick believe that birthdays are special and should be celebrated so, surrounded by wonderful friends and family with food and decorations that dazzle and delight. But a special occasion requires a special kind of effort and there are none more experienced than the team at Hog Roast Hawick, in the art of turning an ordinary even into a special one. For decades, we have helped thousands of people to plan and realise the birthday celebration of their dreams by providing our free consultation service before each event, and by preparing our top quality, fresh food to an unbelievable standard.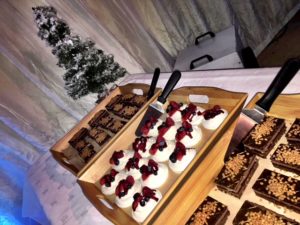 This week we had a stunning venue to complement our stunning food. The historic Bughtrig house in Berwickshire, is a wonderful stately home with beautiful herbaceous gardens. Our client had chosen Bughtrig as the venue for an extravagant birthday party with 80 guests and had asked to us to provide a Hog roast, with seasonal vegetables and a choice of desserts.
The team at Hog Roast Hawick were on site, with plenty of time before the guests were due to arrive. Our chef began preparing the food by butchering the hog and placing it on the machine to roast. The slow-cooking method allows the hog to cook in its own juices, and the rotisserie style helps to disperse those juices throughout the meat, resulting in a succulent finish and a crispy crackling to die for. As the Hog cooked, our chef was busy preparing the accompanying vegetables and desserts whilst the waiting staff laid cloths over the serving tables and decorated the room. The snow covered tree decorations brought a real festive feel to occasion.
When guests began to arrive, the smell of the hog was already in the air, and had people coming up to our chef well before the nine o'clock serving time which eventually arrived with queues quickly forming. Of course the chef was well prepared and had more than enough to feed the 80 guests. It was the spiced Sweet Potato Wedges and an assortment of seasonal vegetables that accompanied the golden brown hog. And for desserts a choice of the Chocolate Torte, or the Vacherins of Berries and Cream served buffet style on China plates.
It was an absolute pleasure to work in such a historic venue, and we made sure to leave no mess behind as we discreetly tidied and disposed of our waste off site. Everybody was delighted with our food and our service which helped to make the celebration a special one.