Recently, the Hog Roast Ayr team was hired by Chris for the newly wedded Mr and Mrs Sharkey for their beautiful wedding. The event was hosted in Chris' huge backyard which provided a fantastic backdrop to the couple's wedding. Chris' cottage was a stunning traditional British cottage in a beautiful rural setting in Ayrshire. The wedding ceremony was also held on the lawn alongside a huge white marquee for the dining. Most of the male guests were kitted out in kilts and it helped to bring the traditional theme to life. Luckily the team had some fantastic weather for the event so that it could all be held outside.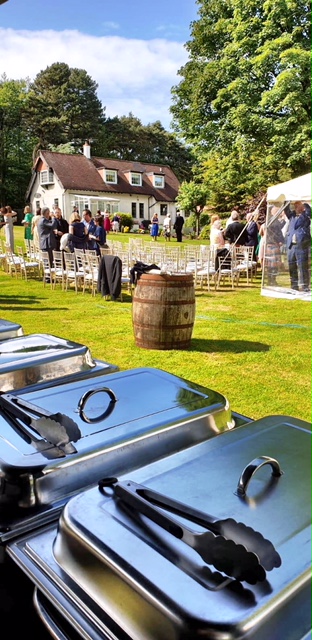 The Hog Roast Ayr team provided their own marquee to serve their buffet under and the client selected the Southern Slow Roast for the Hog Roast team to serve to his guests. The buffet was served on disposable crockery and so it made cleaning up after the buffet really easy. The food was served in professional heated trays to keep the food hot outside.
The team served the BBQ pork butt, Cajun spiced whole roast chickens and Texan 24 hour beef brisket. The Hog Roast Ayr team also served a selection of sides including Memphis style crunchy coleslaw, corn cobettes, seasonal green leaf salad and Cajun spiced sweet potato wedges. The Hog Roast Ayr also served a vegetarian option of lightly grilled vegetable and halloumi wraps which were served with Tzatziki dip and pitta breads.
The Hog Roast Ayr team's chefs, John and Gary led a really professional service and helped to create a great atmosphere at the wedding. The team served their buffet to 70 people so it was important that they sustained quality throughout the service for such an important event. The Hog Roast Ayr prepared and cooked all of the food onsite to ensure that everything tasted really fresh. The food was served from 5pm onwards but the team arrived several hours in advance to ensure that all of the food was cooked evenly and to perfection. The team helped to create a fantastic day for the couple and were really proud of their service.