After enjoying Hog Roast Cumbernauld's food so much when we catered for them last year at their annual company barbeque, Laura at Kelvin KBB asked us to come back and do it all over again this year! The 100 employees couldn't wait to tuck into our classic hog roast and barbeque favourites again and we were only too happy to oblige!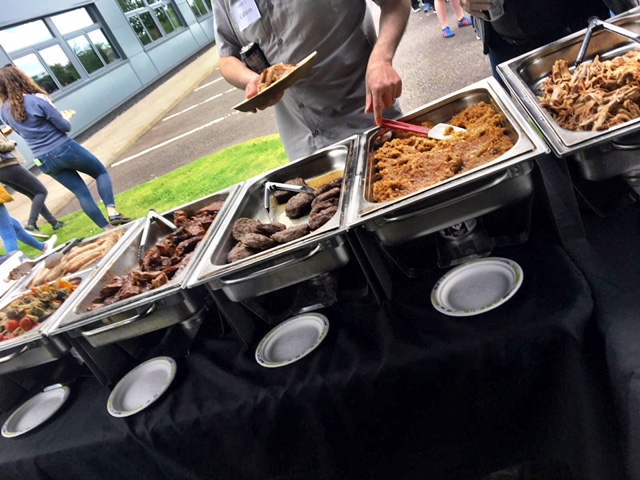 We arrived at their venue in the morning of the event to ensure everything was prepared to perfection and beautifully presented for our corporate diners by 3pm sharp. Whilst our ethically-reared pork was roasting slowly and delicately, Catering Manager John ensured the rest of the talented Hog Roast Cumbernauld team were on track to freshly prepare the rest of the menu, using as always, only the best locally-sourced ingredients in all of our dishes.
Alongside the hog roast and barbeque classics, we rustled up some of our homemade creamy coleslaw and a refreshing Italian-inspired tomato and mozzarella salad. Because we are also very considerate when it comes to different dietary needs, we made sure the vegetarian and vegan diners wouldn't be going hungry, thanks to our grilled halloumi and veggies skewer, along with a dairy-free veg only option!
Our plentiful barbeque buffet was ready and waiting for our corporate clients at 3pm as promised and there was a ripple of excitement amongst the group of colleagues as they watched our resident chef carving the tender, perfectly cooked pork! Both our meat-loving and vegetarian and vegan diners loved the food we presented to them and our friendly catering team happily chatted to everyone whilst assisting them at our serving table as they came over for their first, second and in some cases, third helping!
Everyone was enjoying the sunshine and the food, as they tucked into our freshly made feast, all served on wooden crockery to complement the outdoor dining experience. Their annual company barbeque is a great way for everyone to relax and forget about work for the afternoon and Hog Roast Cumbernauld's food certainly hit the spot for the second year in a row!