The Hog Roast Ingliston team had a fun day recently catering for 200 people at a local football tournament! Having cooked up a storm at the same event last year, Douglas at the Currie Star Club where the event took place, asked us to come along again to keep the crowd fuelled with some of our unbeatable hog roast sandwiches served with irresistibly crunchy crackling and velvety apple sauce!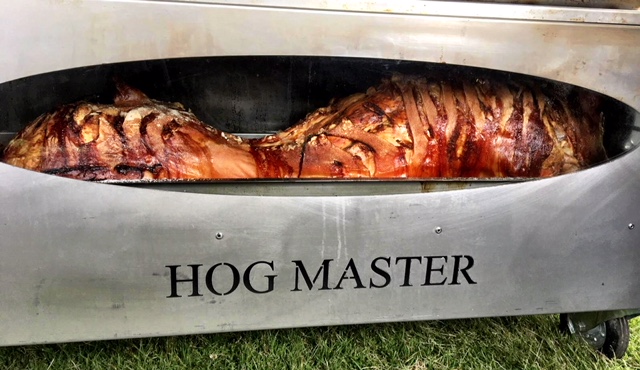 There is no better outdoor catering option for a lot of people than a hog roast, especially if it is some of our ethically reared and perfectly cooked pork! Our hog roast machines always make a great show piece for any event and true to form, it certainly attracted a lot of attention at this one! Of course, our machines don't just look the part- our modern fleet of hog roast machines are capable of producing a large volume of high quality food, which helped us to keep everyone happy and well-fed throughout the day.
Because we always make every aspect of our menus from scratch on the day, we arrived a few hours before we were due to serve the food and whilst the other participants in the event were busy with their preparations, Hog Roast Ingliston's expert outdoor chefs Gary and Sampathi were busy making sure our prime pork would be at its most tasty and succulent best for our diners! As awesome as our pork is, we realise that not everyone will be able to eat it depending on their dietary needs and preferences, which is why we were also asked to provide some tasty veggie skewers for our diners too.
It was a busy and upbeat event that we enjoyed being a part of and everyone who ventured to our serving table certainly enjoyed our food too! We produced plate after plate of perfectly cooked pork, and it seemed that our diners couldn't get enough of it! Douglas was very pleased that he had asked the Hog Roast Ingliston team to come along for a repeat performance and our hog roast sandwiches proved to be just as popular as they were last year!