At long last Richard had proposed to Kerry. Family and friends had been waiting such a long time for this to happen and finally the question was asked. They decided to have an engagement party so family and friends could help them celebrate this wonderful occasion.
Bellshill social club was the place that was to host the party as it had a large function room. Kerry made a slide show of photos of her and Richard that had been taken over the years they had been together and hired a projector. A lovely show of photos were shown on repeat all evening.
Kerry's favourite food was pork and stuffing sandwiches which is why she choose us at Hog Roast Bellshill to do her catering. A large pig was cooked to perfection with our signature herbs and seasoning added for that special flavour. After many hours off slowly cooking the pig the room filled with a wonderful sweet and succulent smell of cooked pork, apple sauce and stuffing which was making the guests feel very hungry indeed. A large line of people started to form as we carved the pig. The sandwiches were spilling out with meat as we at Hog Roast Bellshill don't like to skimp on our servings. We like everyone to feel as though they have had a sandwich that is filled with what they have asked for. We pride ourselves on quality and value for money which is one of the reasons we have plenty of bookings.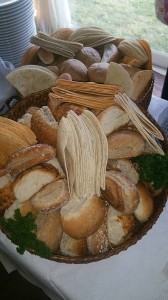 Customer satisfaction means a lot to us. As our chef carved the pig our catering staff filled the rolls with pork. Kerry also choose potato wedges which we served in cones to guests. A BBQ dip was made fresh to give an added flavour for anyone who wanted it.
Kerry and Richard were very much at ease all evening knowing they had nothing to worry about as we were there to take care of everything and take the pressure of the rest of the family meaning everyone could just relax and have a great time. The party went on until the early hours of the morning and as guests left they were able to collect sandwiches to take home which our catering staff had made up and left from the remaining Hog Roast.
The day after we received a lovely phone call from Kerry saying how everyone had enjoyed the evening and loved the food and asked if we would do the catering when they got married. We at Hog Roast Bellshill love to hear how happy people are with the service we provide.