When Hog Roast Dumbarton is asked to cater a party or event, we always do it to the best of our abilities, regardless of the formality of the occasion we're attending. You may be planning an informal milestone birthday do, your formal wedding reception meal or a huge, fancy corporate event with hundreds of guests but either way, everyone is treated the same – with gorgeous, homemade food, and with our professional team members providing top-class service with a smile. We've spent many years perfecting the food that we make for our customers and their guests, and especially our hog and spit roasts, but we also offer a wide variety of alternatives and additional food options, so that everyone can enjoy our food.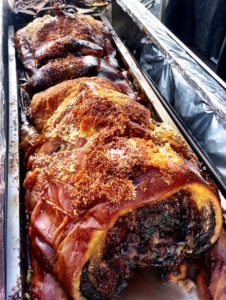 For a casual engagement party that we catered recently, Josh and Gillian asked us to cook a traditional centre-piece hog roast, to make pigs in buns for 35 guests at their home. They also needed a vegetarian option, and were delighted with the thought of our veggie skewers, which feature halloumi and fresh vegetables, grilled and then served in pitta bread, alongside our Tzatziki dip. While we can make all kinds of dishes for all kinds of diets, our skewers are incredibly popular.
On the day of the party, our Hog Roast Dumbarton chef and team members set up in the large back garden at the couple's home and started preparing the meat several hours before the teatime service. You can't rush a hog roast, and we cook it at a low temperature for ages until we get a soft, moist inner and a crispy, salty outer, full of crackling. Once prepared, the meat sizzled away in its own juices while we kept an eye on it, to make sure it cooked through and through.
Sometime later, Josh and Gillian's guests began to arrive while the hog was resting and we were cooking the skewers and preparing the fixings for the pigs in buns. Once our apple sauce and stuffing (both Hog Roast Dumbarton homemade delights) were dished up, and the bread rolls, wraps and sauces were set out on the serving table, it was time to serve up some very tasty grub.