Did you know that Hog Roast Cumbernauld also hire out their trusty hog roasting machines to the public? That means anyone can cook up the perfect roast in no time! Just get in touch to find out about our different machines and find one to suit all your needs.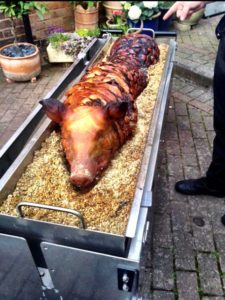 That's exactly what John did this week.  He made a spontaneous visit to our factory in the north west as he was driving home from work and thought he would pop in to see what all the fuss is about. We more than welcome this and encourage everyone to visit our factory, no appointment necessary.
John was more than impressed. He couldn't believe how many different machines we actually had on show and was bowled over by the extent of our expertise in the area. Hog Roast Cumbernauld have been in this business for over a decade now so it's no surprise that we know exactly what makes a perfect roast and in most cases that's all down to the machine! This is why we manufacture and design our own machines, so we know we can rely on them day in and day out to provide succulent meats up and down the country.
John decided to go with the classic Hogmaster Pro. This small but mighty machine is one of our favourites at Hog Roast Cumbernauld. It's small enough that one person can easily man it and even carry it around yet big enough to be able to cook a small hog whole plus accompaniments. As he was only planning to cook for family and friends this would be perfect for John's needs. We arranged a date for the machine to be delivered and agreed that John would be hiring the Hogmaster Pro for one week to begin with although we have a sneaking suspicion this might be extended…