Hearty wholesome food on a cold Scottish winter night.
So even though it's January we are still busy delivering top quality hog roast catering as well as planning our busy year ahead.
It's important that customers understand that hog roasts can be setup and delivered into every environment, it doesn't need to be an outdoor event, as more and more events are being booked indoor like our latest client at Findlay church near Bishopbriggs.
Our team set up in the church hall 2 hours in advance to make sure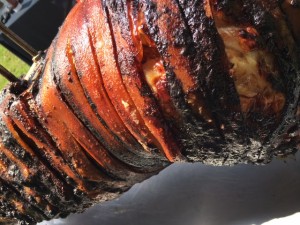 we were completely set for our 150 guests, who where eagerly waiting to dive in and experience the wonderful taste and aromas of our slow cooked hog roast in Bishopbriggs, which was just falling off the bone. So fast forward 2.5 hours, the foods gone, bellies full and 150 extremely happy guests and the organiser's job for a hog roast in Bishopbriggs done!
It's never to early to book your event with us so why not contact us and our wonderful team will use their years of experience and wealth on knowledge to guide you through the process making everything seem effortless so you can sit back, relax and look forward to your event.