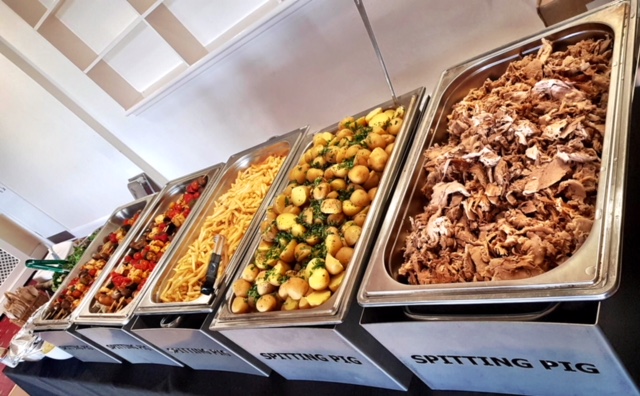 When you're hunting high and low for reliable caterers for your special occasion, you need to know that they'll listen to your wants and needs and provide top-notch service while serving a suitable menu that includes options so that everyone you invite can enjoy fresh, delicious, homemade food. With Hog Roast Drumclog, you get all of this and much more too, as we always work hard to go the extra mile for our customers and their guests, regardless of the type of party or event that we're attending and no matter the formality of the occasion.
Whether you're planning a posh wedding reception or corporate event at a stunning venue and with a large number of people invited or a casual get-together for your birthday in your back garden with just a few friends, Hog Roast Drumclog has got you covered, and not just with a hog roast centrepiece that we're famed for. We've spent years perfecting our menus to include alternative meat options as well as ones for special diets, and we offer plenty of supplemental dishes too, in case you want to add extra courses of canapés, starters, sides or desserts (or all of the above if preferred!)
You may want us to cook spit-roasted or barbecued meat instead – just let us know your favourite meats and Bob's your uncle – or you may need us to cater for dietary requirements, like vegan, vegetarian or gluten-free. We have some lovely dishes for vegans and vegetarians, like barbecued pulled jackfruit and slaw and halloumi and vegetable skewers, while your gluten-free guests could even enjoy one of our hog roasts if they wanted, as all the ingredients are already suitable except for the bread rolls and wraps; just let us know in advance and we'll take along suitable ones for those people.
We also offer standalone menus for something extra-special, like our Southern Slow Roast, our Loaded Fries or our newly-added Alfresco Menu. With something for everyone you invite, Hog Roast Drumclog can help make your next special occasion even more memorable, so contact us today to see how!