Following the Scottish Government's major lockdown announcement back in March, Hog Roast Troon has been working doubly hard to reschedule our previously postponed bookings and take on new clients ahead of next week's easing date.
In case you haven't heard, as of the 26th of this month, our team will be back to providing our regular in-person catering services once again. Though for the time being, this will be limited to big life events only, i.e. weddings and funerals, where up to 50 guests will be allowed to attend. Of course, our Gourmet Delivery service isn't going anywhere either, so don't feel pressured to plan a whole wedding just so you can enjoy a tasty hog roast from Hog Roast Troon!
All jokes aside, now that parts of the economy are starting to reopen and social distancing rules are becoming far less demanding, things for the future are beginning to look a lot brighter, and as normality prepares to make its big comeback, we've been working with all sorts of clients to make sure their events are up to par.
One of our first serves back next week, following almost an entire year of deliveries and staggered corporate events, will be a wedding breakfast for Siobhan and Angus – and we simply cannot wait! The bride and groom have spent the entirety of lockdown preparing for their big day, and with our help, they were able to design the perfect menu for their celebration.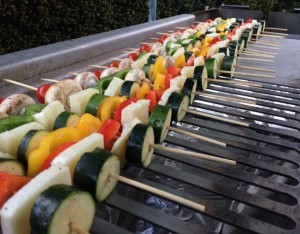 With BBQ pulled jackfruit and grilled vegetable and halloumi skewers for the handful of non-meat-eating guests, a couple of gluten-free dishes for those with intolerances and a divine spit-roasted pig smothered in applesauce, sage and onion stuffing and crispy crackling for everyone else, the couple couldn't be happier with their chosen spread. What's more, Hog Roast Troon will also be serving the first round of drinks leading up to the speeches, along with indulgent platters of Italian meat and cheese boards, and to finish off the day, we'll slice and serve the wedding cake after dressing it in ripe berries, fresh cream and a summer fruit coulis.