Are you a sweet or savoury kind of person? At Hog Roast Gretna Green it doesn't matter, we can provide either as an addition to your menu. Hog Roast Gretna Green's sweet verses savoury is desserts verses canapés. Some people want to add on a little extra to their menu and choosing canapés or desserts are a popular choice. 
Hog Roast Gretna Green offers a range of canapés, many of which compliment welcome drinks such as Prosecco or Pimms. The following are handful of popular canapé choices: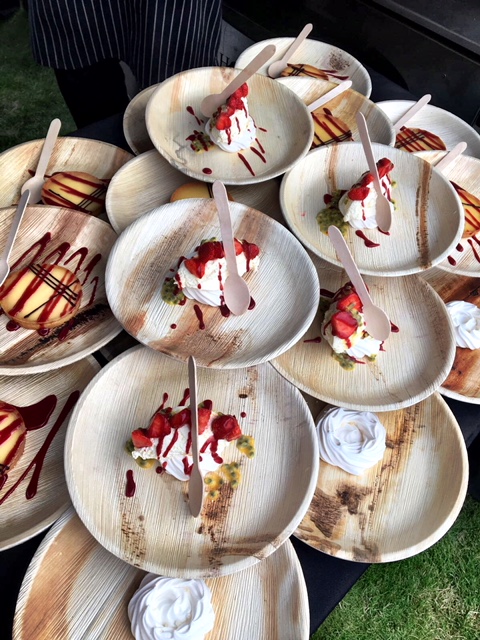 Smoked salmon – enjoy light brown bread with a squirt of cream cheese and topped with smoked salmon, a squirt of fresh lemon juice and a sprinkling of fresh dill.
Fillet of beef – indulge in a party in the mouth as a miniature Yorkshire pudding is filled with a dash of horseradish before a strip of delicate medium-well fillet steak is added.
Indian selection – simple yet flavourful Indian snacks such as vegetable samosas, vegetable pakoras and onion bhajis, these are served with a dip of sweet mango chutney
Halloumi – an Italian-inspired crostini with tomatoes, a red onion marmalade and delicious cooked halloumi, completely flavoursome!
On the other hand, Hog Roast Gretna Green also provides an impressive list of desserts! Below are a few popular options:
Profiteroles – a tower of fluffy choux pastry filled with delicate cream seated on a biscuit base with drizzles of milk and white chocolate and spoonfuls of rich dark chocolate to keep it altogether.
Sticky toffee pudding – a dense and rich, golden sponge topped with a blanket of mouthwatering toffee sauce served hot.
Cheesecake – either a slice of New York flavoured cheesecake served with raspberry coulis and fresh berries or an individual light and fluffy chocolate, lemon or raspberry and white chocolate cheesecake served with pouring cream
Lemon Tart – a tantalising, citrus lemon filling on a sweet and crisp base, a fresh delight especially on a summer's day!
You are in for a treat with either Hog Roast Gretna Green's desserts or canapés, take a look at the website to see the whole extent of canapés and desserts.